Jeep Grand Cherokee Adventures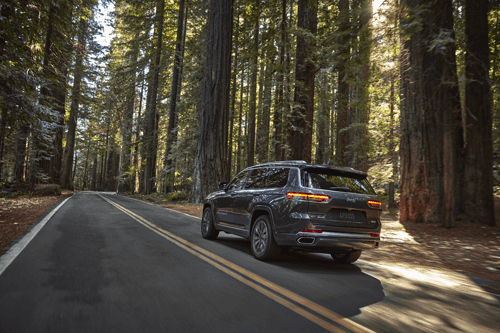 Looking for a vehicle with as much all-terrain control as the Jeep Wrangler? Look no further than the Jeep Grand Cherokee. In addition to the comfort and control you would expect from a Jeep vehicle, the Grand Cherokee also offers a variety of luxury features for adventuring on the open round.
Become the master of your domain in the Jeep Grand Cherokee, which boasts not just one but three 4×4 integrated control systems for smooth driving on any terrain. The Jeep Grand Cherokee offers a whopping 7,200 lbs of towing capacity, ideal for bringing along all of your hiking gear, camping equipment, and just about anything else you'll need on your off-road adventure. The Jeep Grand Cherokee 4XE model also offers all the amenities of the base model, but in a more environmentally-conscious package. The 4XE plug-in hybrid is designed for both high performance and sustainability without the expense and environmental consequence.
Today, you can order your brand new Jeep Grand Cherokee your way at Rairdon's Dodge Chrysler Jeep and RAM of Bellingham. Then, you can treat yourself and take your new vehicle out for a test drive to one of Bellingham's many local campsites and hiking trails.
Larrabee State Park is located on the seaward side of Chuckanut Mountain and is well-renowned for its postcard-like vistas of Samish Bay and the San Juan Islands. There are two freshwater lakes located nearby as well, and hiking and mountain bike trails cut through a dense Douglas-fir and salal forest. A perfect spot for a camping enthusiast that wants a little bit of everything!
Douglas Fir Campground is situated on the picturesque banks of the North Fork Nooksack River in the lush Mt. Baker-Snoqualmie National Forest. Rugged peaks, abundant wildlife, and old-growth forests contribute to the beautiful scenery you'll be immersed in at your campsite, and trails for all hiking levels are easily accessible from the campground. There are even whitewater rafting spots along the river for those with an adventurous streak.
More Campground Information:
Larrabee State Park:
https://www.parks.wa.gov/536/Larrabee"
Douglas Fir Campground: